To View real-time Statistical Data for your Campaign, click the Reports tab at the top right of any screen in Which50. Find your Campaign in the Campaign list or search for your Campaign in the searchbox.
Click on your Campaign and you will be brought to the main Reports screen. Depending on the type of Campaign you are viewing, you will see real-time percentage Statistics for the Campaign including Sent, Delivered, Opened, Received, Visits stats etc. These Statistics can be refreshed at any time by clicking the Blue Refresh button at the top right of the screen. Clicking the Blue View Campaign option below the Refresh button allows you to return to the Manage Content screen for your Campaign.

Click on the "View Details" button on the right side (or anywhere along the row of stats) to access the full Report details. An example is shown below, where you will find all of the in-depth statistics and information regarding the contacts who have interacted (or not) with your Email, SMS or Landing Page.
Note: each one of the underlined numbers in this Report can be viewed, exported as an excel file, or saved to a File Manager folder, to see the exact details of each individual contact. Learn more about that here.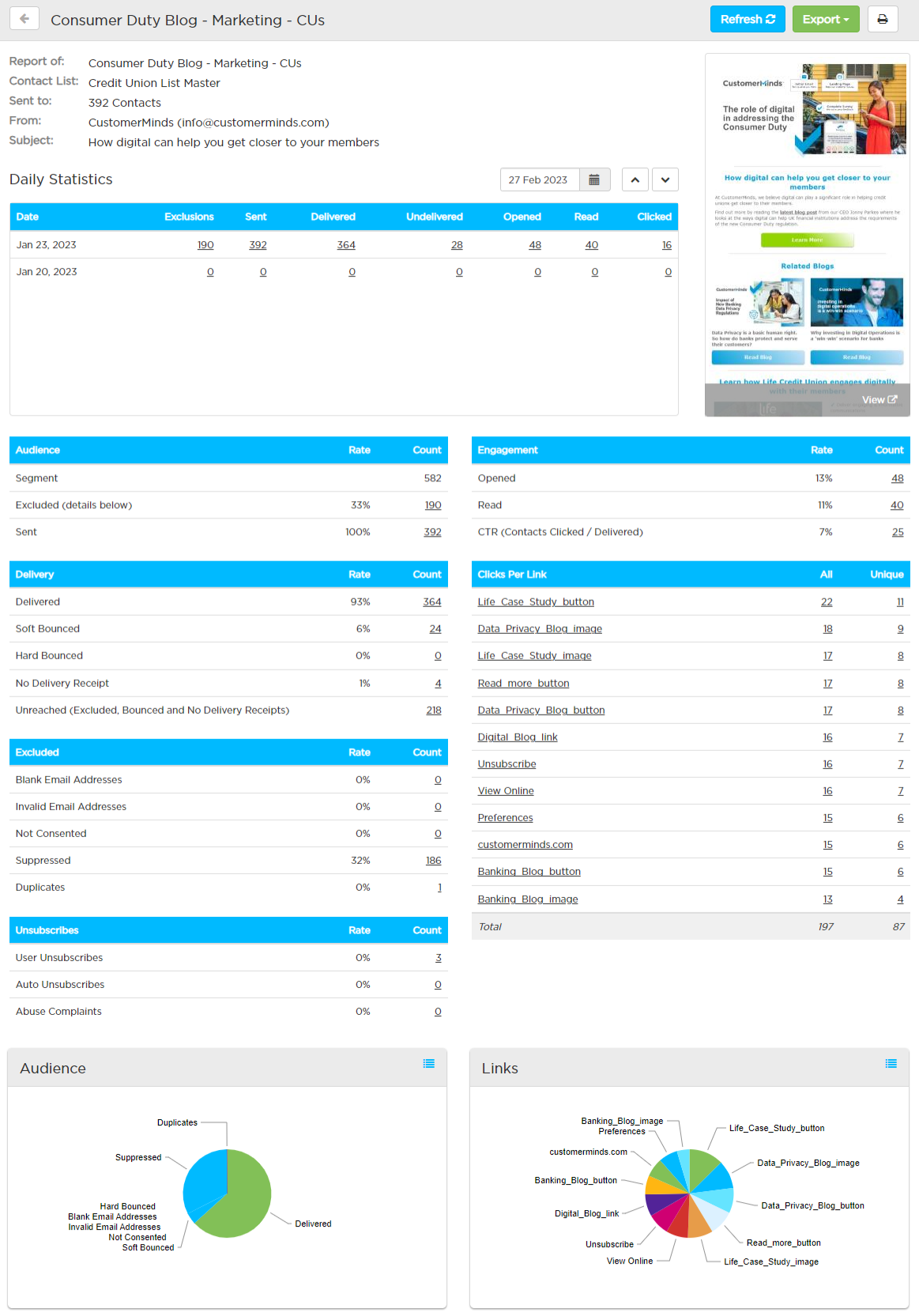 From the top, on this screen you'll find the Daily Statistics section, particularly useful if your campaign is set up to send over a number of days or is ongoing. You will also see Audience, Engagement & Delivery sections, where more details can be found regarding who has or hasn't received your content and interacted with it. On the right hand side is the list of Links found in your Email, and the Clicks per Link section showing who has clicked on each link. Here you'll see All links clicked, and the Unique clicks. If an individual clicks a link more than once, those clicks will be tallied in the 'All' column, but that individual only appears once in the 'Unique' column.
On the left side continuing down the screen you will see the Excluded and Unsubscribes sections. These sections detail which contacts have been excluded from the campaign send for various reasons, and then the contacts who have unsubscribed from your content. Note: the "Auto Unsubscribes" are the exact same contacts as the "Hard Bounced" found further up in the Delivery section. Any contacts that Hard Bounce are automatically unsubscribed from any future sends.
Finally at the bottom you'll see the pie charts containing the same information listed in the Report above, but in a more visual way. These charts show the Audience and Links sections, to give a representation of how many contacts are in each section.