To trigger an Email to be sent on a recurring date, you must have a Date field in your Campaign's Contact List. The date entered in the Date field will control when the Email is sent to the contact. This date is unique to each contact in your Contact List. This date can be a birthday, an anniversary, or a reminder for an appointment etc.
Once you have a Date field populated in your Contact List, you are ready to set up the trigger. Within your Campaign, click Schedule. Click Add Activity. In Step 1. Select the Trigger Event, select Other. This will show you the full menu of Activity Trigger options.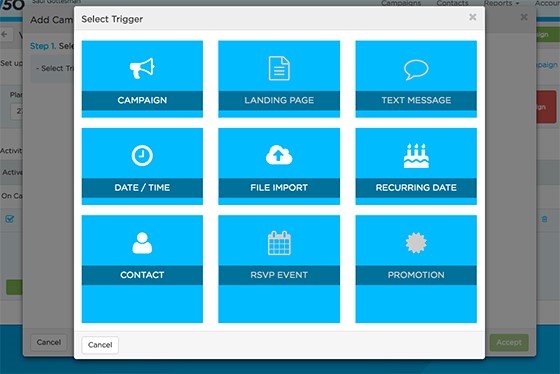 Hover your mouse over the Blue Recurring Date square and you will see two options appear, Notification and Anniversary. The Notification option is suited to remind contacts of an important date, such as an appointment or renewal. The Anniversary option is suited to events that occur annually, such as a birthday or joining date.
When you make your choice, you will be brought to the Campaign Activity screen. Here you can select the time for the Activity Trigger to run each day. You can also add any email addresses you wish to notify of the recurring email each day. For example, if you included your own email address in this field, you would receive a notification informing you every day a recurring email has been issued.
In Step 2. Select the Action to run, you will see a drop down menu where you can chose the action you want the trigger to perform. Select Send Email to Audience or Send SMS to Audience depending on your campaign.
In Step 3. Chose Scheduling Options, you can choose to 'Advance or delay this action', as shown below.

You can also setup Throttling at this stage, which you can learn about in this article.
Finally, in Step 4. Choose Sub-Target, you can edit the name of the target if you wish, and add a sub-target. Here you can control the timing of the Email in relation to the Date. This is useful if you want the contact to receive the email several days before the date (such as a reminder before an appointment), or several days after the date (such as for a thank you for attending email), as well as the ability to add any other conditions you wish.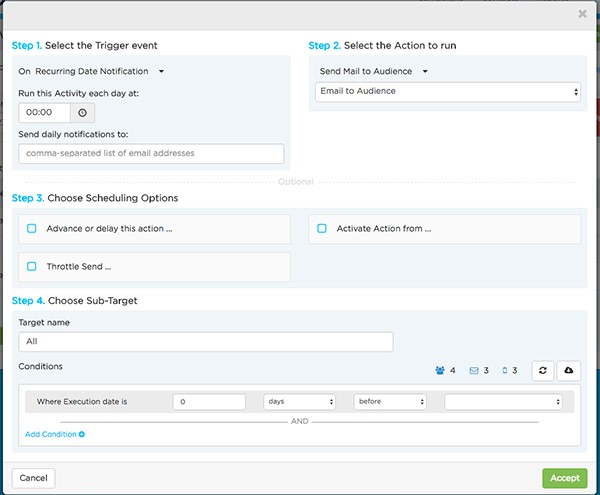 Now click the Accept button and then the Save Campaign button and your recurring notification trigger will be ready for Activation.