GDPR Regulations
Since the arrival of GDPR in 2018 it is critical to be able to differentiate between a Marketing message and a Service (or Operational) message. If you are sending a Marketing Email or SMS then you MUST have Consent to send marketing messages to that customer, whereas you do not need Consent to send a Service message*.
Within Which50 you can handle both Marketing and Service message from the one place – you simply need to select which type of message you wish to set up when you are creating your content. You can even combine Marketing and Service messages within the same customer journey if that is appropriate. Which50 will handle everything else to help you stay on the right side of the regulations.
* The Information Commissioners Office (ICO) in the UK defines a service message as a 'communication sent to an individual for administrative or customer service purposes only'.
Setting up Service Communications
To avail of the Service Email/SMS feature, simply create a campaign as usual. When you get to the 'Manage Content' step, you can then choose to add a Service Email or SMS, as shown in the screenshot below.
Service Comms can be used when you need to communicate important information to your contacts. For example this could be info related to their membership status, bills to be paid, or maintenance work that may affect them, etc.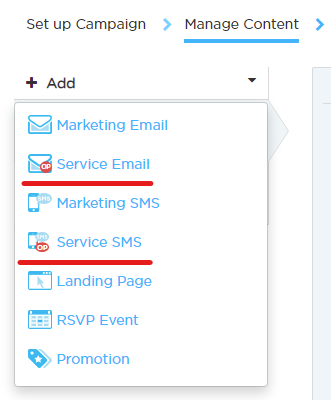 Selecting a Service Email/SMS has one key difference - sending a Service communication will ignore your contacts' Consent Status.
This will allow your contacts to opt out of receiving marketing materials, but still remain subscribed to receive important information, sent via these Service messages. There is no option to opt out of a Service Email or SMS.
For these reasons, it is crucial to determine the nature of your communications, and make sure you are not including any marketing offers or messaging in a Service communication.