There are 3 different types of eDocuments available to use in your campaign.
The 'Pre-Existing' option is the simplest and most commonly used. This allows you to select a file that you have uploaded to a folder within the File Manager, and attach it to an email in your campaign.
In this example, a "Terms and Conditions" PDF file needs to be attached to an email. This is a standard, pre-existing PDF with no dynamic content or personalisation needed. The same file is to be sent to every recipient.
The PDF is uploaded to the File Manager, into the folder stated below (the folder named "Terms_Docs" in this example). The File Name also needs to be stated, so the precise file is selected for attaching.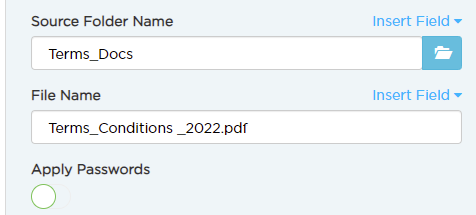 Once these fields are filled in, the eDocument is ready to be attached to the relevant email. Select the correct email in your campaign and use the +Add Attachment button to add your eDoc, and select it from the dropdown menu.

Now your email is ready to be sent! With the eDocument set up and attached properly, this will now appear as an attached file on the email in the recipient's inbox.