E-Documents are a new feature that allows you to attach documents to your Email communications. Using E-Documents, you can attach a file to an email and send it to your customers, potentially replacing the need to mail out expensive and slow physical documents. There are 3 steps involved in E-Documents:
1. In the File Manager, upload the file(s) that you wish to use as attachments,
2. Add an E-Document to your campaign,
3. Select the E-Document(s) from the dropdown menu on the Email you wish to attach the file(s) to.
To attach a file (e.g. a PDF) to an Email, you must have a corresponding E-Document in your campaign.
The feature can be accessed just like adding a new Email, SMS or Webform to your campaign within Which50. On the 'Manage Content' step of your campaign, use the +Add button to select and add an E-Document to your campaign.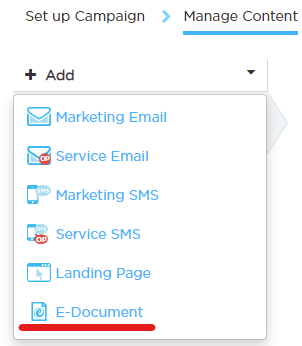 Once your E-Doc is added correctly, you'll need to select the Email you'd like to attach the file to. Simply select the relevant file you wish to attach from the dropdown menu (which will contain all of the E-Docs within your campaign).

There are 3 different types of E-Docs available, each with a different use-case. Read more about them and the configuration involved in the next articles here.
Lastly, you'll notice your Campaigns that have an eDoc included will display a new icon alongside the other Campaign items, below shown as 3 eDocs - the right most icon.