Using the 'Proof' Feature is an important step in making sure your campaign will perform as expected. Your Email, SMS, or Landing Page may contain personal information that will dynamically change per individual recipient/viewer.
The Proof Feature can show you how this personalised data will appear when populated with real information. For example this may be as simple as a greeting: "Dear [[First Name]]". The Proof screen will show you how that will look when filled in. The button to access this Proofing screen is shown below, just beside the 'Copy From' and 'Test' features, above the designer in your campaign.
Click the Proof button and you will see the screen as shown below, split into a left and right side.
On the right side you will see a preview of your content (Email, SMS or Landing Page), with the data from your Test Contacts being displayed.
On the left side, you will see details similar to the data shown below, which will include any personalised fields you have used in your content. You can choose any of the Test Contacts and confirm that the variables are being displayed correctly in your content.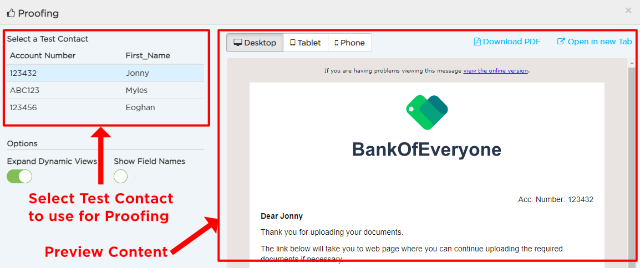 Note: The example contacts shown here will only contain a list of the Test Contacts from your Contact List. Learn about how to add a Test Contact here.
Select the "Expand Dynamic Views" option to Proof all of the content held across each of the Views within a Multi-view. Remember that using a Multi-view, it is possible to display certain content to specific segments of contacts. Using this new Proofing feature makes it much easier to review and get sign off for all of the variations of the content.
(Learn more about using Multi-views here)
Select the "Show Field Names" option to highlight all of the personalisation used in your content, just like the example below.