When you select Standard Email Campaign in the Create a New Campaign screen, you will be brought to the Set up Campaign tab. This is the first of the four stages in creating a fully functioning HTML Standard Email Campaign.
You will see the names of all four stages along the top of the screen, with arrows showing their sequential relationship. These are:
Set up Campaign > Manage Content > Segmentation > Schedule.
Once you have completed stage one, Set up Campaign, you can navigate freely back and forth through these four stages. In this guide, we will explore each stage in sequence.
The first step is to give a name to your Campaign, as shown below. Choose a clear, identifiable Campaign name, so you can find the Campaign easily among your archived Campaigns in the future.

After you have named your Campaign, the next step is to select a Contact List. Click on the 3 dots symbol (as shown above) to display any Contact Lists that have been uploaded to your account. You can learn more about working with Contact Lists here.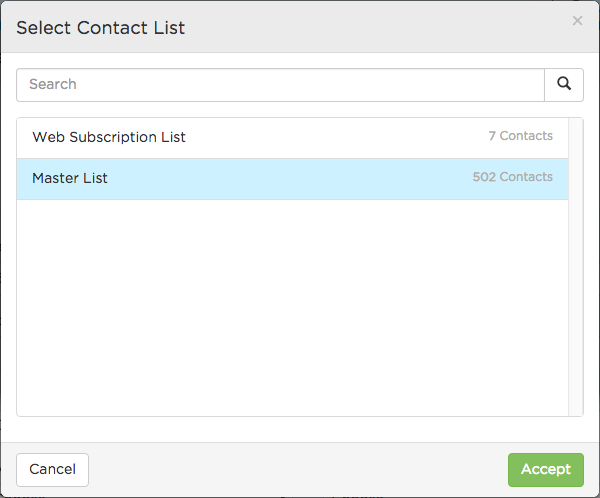 Next, choose branding. This should automatically be set to your own branding, but may be set to the default 'CustomerMinds'. This branding will dictate how an email is received by your contacts, and the Company Name and Email Address details that they will see on your email in their inbox. These branding settings can be changed in the next step in your campaign, but if you'd like to set up a new branding option, so you can select it from the menu in future, contact us at support@customerminds.com.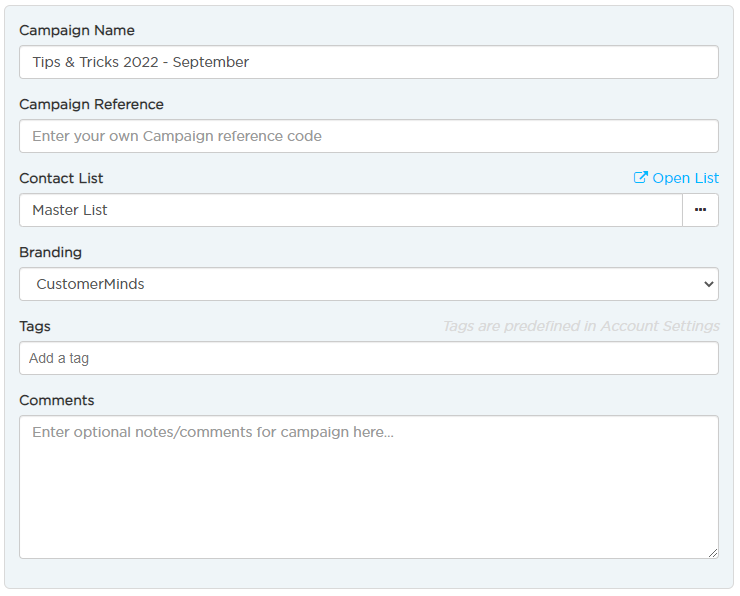 Finally on the Set up Campaign screen you can enter optional Comments or Tags. Adding a Tag can help with searching and sorting your Campaigns, and the comments are purely for internal visibility.
When you are finished, click the green Save and Continue button.

Once you press Save and Continue it will bring you to the Manage Content screen.